While Democrats demand Attorney General Jeff Sessions resign for  meeting with Russian Ambassador Sergey Kislyak during the presidential race, the White House visitors log shows Kislyak visited the Obama White House more than a dozen times.
Kislyak, who was appointed ambassador to Washington in 2008, visited the White House at least 22 times between 2009 and 2016, the Daily Caller reports.
The visitor log, which was made public in 2009 in an attempt for transparency, shows Russian officials met with Obama's senior adviser John Holdren in the Eisenhower Executive Office Building. Marina W. Gross, Alexander Ermolaev, Alexey Lopatin, Vyacheslav Balakirev and Sergey Sarazhinskiy also met with Obama or his staff.
During the Clinton uranium scandal in 2010, ambassador Kislyak met with Obama White House officials six times: December 2010, October 2010, May 2010, April 2010, February 2010 and March 2010.
Democrats' paranoia about Russian influence on American affairs was certainly nowhere to be found when Hillary Clinton was cheerfully selling them a huge chunk of America's uranium stockpile. Then-secretary of state Hillary Clinton approved  the transfer of half of U.S. Uranium output (20% of all U.S. Uranium) to the Russian government in 2010, a 2015 Government Accountability Institute timeline reveals.

The Clinton Foundation received $145 million in donations from investors who profited from the deal, the New York Times reports.
Prior to Hillary Clinton permitting the Russian takeover of U.S. uranium, Bill Clinton reportedly received a $500,000 speaking fee for a speech in Moscow paid for by a Kremlin-connected bank.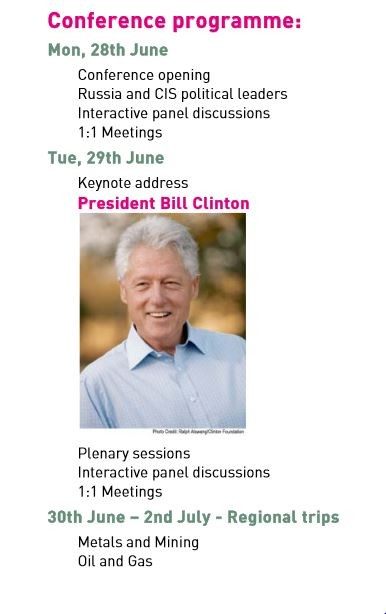 "I've gotta pay our bills," the former president said in defense of his $500,000 speech fees.
Not only was the longtime Russian ambassador a frequent visitor to the Obama White House, at least 30 Democrat were revealed by Thursday afternoon to have met with Russians officials.
Up to 30 Senate Democrats (!) met with Russian diplomats in 2015 to help grease the skids for Obama's Iran deal. https://t.co/GhZnMhTtAd pic.twitter.com/3LPABS9sje

— Sean Davis (@seanmdav) March 2, 2017
Missouri's Democrat Senator Claire McCaskill insisted on Thursday in a tweet that she never met any Russians and blasted Sessions for meeting with Kislyak without telling Congress at his confirmation hearing, but her attack immediately backfired.
Internet sleuths discovered McCaskill's past tweets contradict her claim.